Élevage de l'Étang du Vert
Les Dernières nouvelles
Voila encore une année qui s'achève avec son lot de joies et de peines, c'est toujours la période ou l'on fait un bilan. On doit aussi faire le vrai, le "comptable"et pour nous des décisions s'imposent. A vous tous qui nous connaissez bien, vous savez que nous ne sommes pas des éleveurs comme les autres dans le sens ou nous avons toujours gardé tous nos chiens. En cette fin 2017, nous nous retrouvons avec un nombre trop important malgrè la grandeur du bâtiment et nous avons décidé de "caser" nos retraités.
C'est à vous nos clients et nos amis que nous faisons la proposition de vous donner un nombre de chiens auquel nous tenons. Il s'agit de Célia, Cirka, Cartouche, Charbon, Calypso Déesse et d'autres encore, plus jeunes mais qui n'ont pas tous les critères de bons reproducteurs .Si vous cherchez un compagnon, n'hésitez pas à nous appeler...
Un Très Joyeux NOEL à tous et de Bonnes Fêtes de Fin d'Année
Canine Stock Breeding in the Alpes-de-Haute-Provence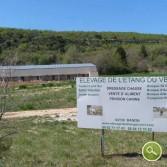 It's in Banon that Elizabeth and Jean Michel created their small dog world.
Banon is a small medieval village in the Alpes de Haute Provence, which has kept its authentic and natural.
Leaning against the Albion plateau, between the Luberon, the Lure mountain and the Mont Ventoux.
You will find clean air under a bright blue sky.
Surrounded by lavender fields and hills delicately scented by thyme, sage and savory.
All your senses will be awakened to the beauty of colors, subtle smells, the sound of cicadas, not to mention tasty and unique taste of Banon cheese wrapped in chestnut leaves.
All the ingredients to feel good Banon! The all new buildings welcome your dog in ideal conditions ...
Locate us
Élevage de l'Étang du Vert - Stockbreeding & Boarding Kennel - Pointer Specialist - is in Banon (04)
in the Alpes de Haute Provence, in the triangle of Sisteron, Aix-en-Provence and Apt, near Manosque and Forcalquier.
See also the roadmap.
The right food for your dog
Give it only the best!
Thanks to our partnership with Naturedog, get 5% discount, click here!