Braques Saint Germain
... dog of kings, king of dogs ...
Group 7 - Pointers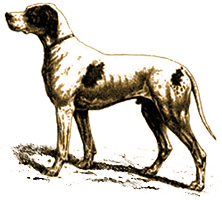 Stabilised under Charles X, XVIth century
Our race ...
... the one we have been dedicated to since 1993.
Unfortunately managed by an association totally inactive and disinterested for the future.
This majestic breed is endangered with around ten births per year.
A drama for us ...
Main features
average pursuit
strong setting
noticeable docility
sociability
rare elegance
Born from a cross-breed of a lice pointer, offered to King Charles X, and the former Braque Français, the Braque Saint Germain inhereted the qualities of both the races.
This authentic halfbreed was originately breeded for the guards of the royal kennels in the Compiègne forest. Afterwards he got the name Saint Germain, after the forest were the kennels were relocated to.
With his rare elegance, it is a noticeable hunting dog. Endued with a very fine nose, it adapts itself to all sorts of terrains, but excels all the more on high grass: its setting is strong and it oftenly retrieves by itself. Gentle and supple of character, it's an easy student and a children's friend, as it appreciate living at home.
There's only one shortcoming known to this beautiful dog: its relative rarity, as one counts no more than about 50 newly borns each year.
Locate us
Élevage de l'Étang du Vert - Stockbreeding & Boarding Kennel - Pointer Specialist - is in Banon (04)
in the Alpes de Haute Provence, in the triangle of Sisteron, Aix-en-Provence and Apt, near Manosque and Forcalquier.
See also the roadmap.