German Pointers
... once upon a time there was the Kurzhaar ...
Group 7 - Pointers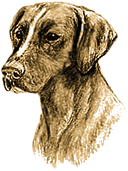 Main features
average pursuit
strong setting
sturdy, staying, swift
a bit stubborn
strong attachment to his master
This attractive hunting dog was developed in the XVIIth century to fulfill the needs of a dog capable of hunting all sorts of game on all sorts of terrains, as well as on land as in the water.
In Germany, where it's called Kurzhaar, it's known to be an excellent pointer, retriever and tracker as well as a good guardian and compagnon.
The first Kurzhaars were heavier and slower than nowadays. They were a cross-breed of the Spanish Pointer and the Bloodhound. Afterwards, to obtain a dog with a better smell, the blood of the English pointer was added.
It is a sturdy, an actif and a brave dog, its short hair hard and dense, its colours white and liver, roan or plain liver. It needs little care but its ears must be examined regularly and if needed cleaned carefully. The race adapts itself very well to family life, in the city as well as on the country side. It has a lot of energy, so give it much exercise.
Locate us
Élevage de l'Étang du Vert - Stockbreeding & Boarding Kennel - Pointer Specialist - is in Banon (04)
in the Alpes de Haute Provence, in the triangle of Sisteron, Aix-en-Provence and Apt, near Manosque and Forcalquier.
See also the roadmap.