Wirehaired Dachshunds
It hunts on the land and under!
Group 4 - Dachshunds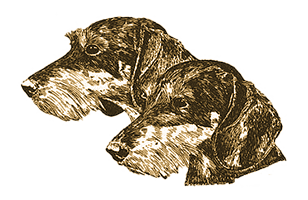 Main features
Passionate hunter
Quick stayer with a fine smell
Naturally kind
Balanced character
Affectionate to his masters
Originately from Germany, the Dachshunds were used to chase badgers, since their short legs enabled them to enter their holes. The long- and wiredhaired species were obtained by cross-breeding the shorthaired one with spaniels and terriers. Sometimes called "sausage" its somewhat odd appearance can give a totally wrong impression as to its intelligence .
World-famous the Dachshunds is known as both a game dog and a compagnon. Because of their tough character they need to be educated firmly; at a time gentle, stubborn and loafer, they charm their world.
As a good guardian should, he keeps a distance from strangers, maintaining his affection for its close ones. It gets along very well with cats and other dogs in its house, but is perfectly able to assert itself in front of bigger congenerics. It is a very sportive dog, and should be allowed to ware its energy in order to be good at home.
It is the farmost best hunting dog: its at a time a terrier, a brush-crawler, a running dog and blood hound and it's always remarkably tough. The wirehaired Dachshund, in France the greatest in numbers, is used the most often but the other ones are just as skillful.
Locate us
Élevage de l'Étang du Vert - Stockbreeding & Boarding Kennel - Pointer Specialist - is in Banon (04)
in the Alpes de Haute Provence, in the triangle of Sisteron, Aix-en-Provence and Apt, near Manosque and Forcalquier.
See also the roadmap.