Brittany Spaniels
... stubborn like a Breton ...
Groep 7 - staande honden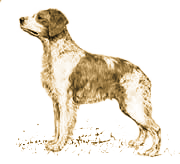 Main features
Versatile dog
Intelligent and attentif expression
Elegant sturdy little dog
The Brittany Spaniel, with a white and orange fur, owes its name to Bretagne, the French region where he probably originates from. Even if there exist paintings from the 17th century portaying very simular dogs, the Brittany Spaniel made his first appearance about 1850.
In 1907 "Boy" was the first reported Brittany Spaniel, and its popularity never ceased to increase. They are strong, swift, energetic and loyal. Reputed for their strongly developed smell, they are good hunting dogs as well as compagnons.
Very exuberant in its young days, it continues to be dynamic yet balanced; it can even adapt itself to living in a flat, provided one gives him enough exercise. It needs the attention of his master more than space. It's a sensible one, so educate it gently, and it's one of the kindest family dogs. It is an everyman's friend, including its congenerics.
The Brittany Spaniel is a tough pointer, at the same time quick, tough and agile. The woods, where it pussyfoots astutely, is its domain, but it excels on all other terrains as well, include in water, with a good retrieve.
Locate us
Élevage de l'Étang du Vert - Stockbreeding & Boarding Kennel - Pointer Specialist - is in Banon (04)
in the Alpes de Haute Provence, in the triangle of Sisteron, Aix-en-Provence and Apt, near Manosque and Forcalquier.
See also the roadmap.